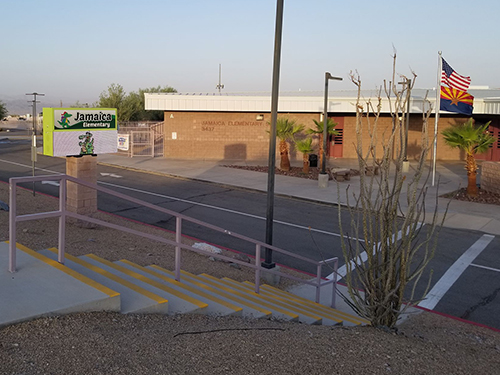 The mission of Jamaica Elementary School is to educate the total child within a safe, structured, yet flexible environment. It is our goal to instill in each student who attends Jamaica Elementary School; personal responsibility, a sense of citizenship, and a desire to contribute positively to society.

We want students to look back at their years at Jamaica and see the difference we have made in their lives.

This is accomplished by:

Encouraging the qualities of grace, resilience, integrity, and tenacity through consistent modeling of the learning process and characteristics of growth mindset.

A true partnership exists with parents, teachers, and community members who are committed to doing whatever they can to see students succeed.

A focus on modern curriculum, strategies, and excellence in teaching.

Consistently meeting or exceeding state standards.

Student achievement/dedication to learning critical skills will be consistently fostered by administration and teachers who are dedicated, knowledgeable, and committed to children.

Enrichment activities provide additional outlets and opportunities for the students to become well-rounded individuals.

The personal dignity of each student will be respected through a structured atmosphere and fair and consistent discipline.

The child-centered atmosphere at Jamaica Elementary enhances self-esteem, self-confidence, self-motivation, and inner-directed behavior.
Crocs are:
Caring and careful
Respectful and responsible
On time
Can do attitude
Safe and successful
Start Time: 7:55 am (Breakfast available from 7:30 am - 8:00 am)
Dismissal Time: 2:30 pm
Early Release Dismissal Time (Thursdays): 1:00 pm
Parks and Rec : 2:30 pm - 6:00 pm; 1:00 pm - 6:00 pm (Early Release Thursdays)
Office Hours 7:00 am ~ 3:30 pm

All visitors please sign in at the office and get a visitor sticker.

Sign all students out in the front office.

If your child will be absent, please call the office at 854-7280 before 9:00 am. An automated call will go out by 10:00 am to verify any unexcused absences.

We do have a voice mail prior to 7:00 am.